Kanban Flow meets DevOps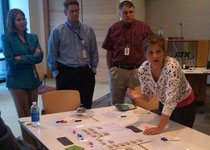 Playing the DevOps variant of the Kanban simulation game, the question that invariably surfaces is, "Why should we do any of these Ops maintenance tickets?  They cost us time and money and they don't generate revenue." 
This is central to the problem - Operations is (or is seen) as a cost center.   Companies are often slanted toward new projects (instead of much needed maintenance work that reduces tech debt and risk) because new projects can be written off as capital expenditures. 
The DevOps movement is shifting the focus away from separate departments working independently to an organization-wide collaboration — a "systems thinking" approach. It's about work flowing smoothly (versus lurking in silos) and delivering the right thing quickly.
What Others Are Saying
"If you need the world's leading expert on using kanban boards to integrate the flow of work from Dev to IT Operations, look no further.  I learn something every time I hear her speak, and her two day workshop was a life-changer.  I recommend anything she does to anyone who cares about enabling the fast flow of work to enable both Dev and IT Operations to help the business win."
- Gene Kim, author of "The Phoenix Project: A Novel About IT, DevOps, and Helping Your Business Win", former CTO and founder of Tripwire, Inc.
"What a worthwhile use of my time! It is rare that I walk away from professional training feeling so inspired and fulfilled and wanting to tell everyone about it!!"
- Jane Despas, WebEx
"Dominica,  Thank you for the great kanban for devops training.  I learned how to use kanban to illustrate my work." 
- Alex Honor, Co-founder, DTO Solutions
"I was in your Kanban training earlier this week – thank you. I got a ton of useful information out of it and it has definitely prompted us to think about how we want to use one for our team."
- Kate Compton, IT Manager, R.E.I.
"The class was excellent. The minute our kanban board went up, everyone started asking questions and getting involved when they never had before.  I am seeing managers take actions to investigate issues without having to escalate – a huge plus. The conversations alone are worth the effort!"
- Betsy Hearnsberger,  Release Manager, Cisco
My Publications
Cutter IT Article
Cutter IT Journal, Devops:  A Software Revolution in the Making? 
This link is to the complete Cutter IT Journal issue, published Aug 2011 and requires filling out a form.  My piece (the 5th of five contributing authors) can be downloaded below (no info required).
DevOps: So You Say You Want a Revolution?
With Ops on the receiving end of faster and more frequent deliveries from development teams, the pressure to keep up necessitates faster and more efficient practices. The inefficiencies of the past clearly no longer suffice.
The realization that the world of building, deploying, and maintaining environments can benefit significantly from using a new approach has caught on rapidly.
Devops.djaa.pdf
Adobe Acrobat Document
685.6 KB